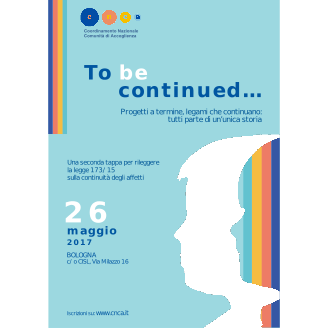 La continuità degli affetti e l'applicazione della legge 173/2015 è il tema al centro del seminario in programma il 26 maggio, a Bologna. L'incontro To be continued … Progetti a termine, legami che continuano: tutti parte di un'unica storia è il secondo appuntamento sulle novità introdotte dalla norma organizzato dal Coordinamento nazionale comunità di accoglienza (Cnca), dopo il primo seminario del 15 aprile 2016.
La legge 173/2015 ha ridefinito il rapporto tra il procedimento adottivo e l'istituto dell'affidamento familiare, prevedendo la necessità di tutelare in continuità le relazioni affettive che rispondano all'interesse del minore.
Gli organizzatori spiegano com'è nata l'idea di questo secondo appuntamento: «se da una parte il tema della continuità degli affetti ha aperto una questione di metodo sull'implementazione della norma, dall'altra stimola ad una riflessione profonda su aspetti antropologici e psico-sociali, ancor prima che giuridici. La dualità tra continuità e separazione che accompagna le storie dei bambini, dei ragazzi e delle famiglie, ma che incrocia anche i vissuti degli operatori, apre la possibilità di conflitti e lacerazioni, ma al tempo stesso indica possibilità di crescita del sistema di relazioni. Proprio per approfondire meglio questa possibilità evolutiva nasce l'idea di questo secondo seminario sulla tematica, a un anno di distanza dal primo appuntamento che ha aperto la strada alla riflessione».
La giornata di studio - rivolta agli operatori dell'affido e della rete di accoglienza familiare, ai servizi affido, alle reti di famiglie, alle associazioni familiari e alle famiglie affidatarie - è suddivisa in tre parti: la prima prevede un approfondimento sul tema della continuità, mentre la seconda e la terza sono dedicate, rispettivamente, ai temi della separazione e dell'applicazione della legge.