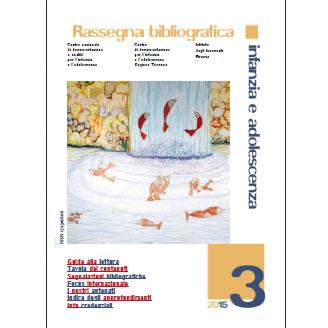 È online il numero 3/2015 della Rassegna bibliografica, rivista digitale trimestrale di informazione bibliografica sui temi dell'infanzia e dell'adolescenza frutto della collaborazione tra l'Istituto degli Innocenti di Firenze, il Centro nazionale e il Centro regionale di documentazione per l'infanzia e l'adolescenza della Regione Toscana.
Questi alcuni titoli della sezione Segnalazioni bibliografiche: Generazioni sospese: percorso di ricerca sui giovani Neet (F. Angeli, 2015), libro di Maria Stella Agnoli che inquadra il fenomeno dei giovani Neet (not in education, employment or training) dalla prospettiva dell'esclusione sociale e ne indaga le origini strutturali e contestuali, assieme alle determinanti individuali, mettendone in luce il carattere multifattoriale, con particolare attenzione al contesto italiano; Con i bambini e le famiglie (Istituto degli Innocenti, 2015), volume del Centro regionale di documentazione per l'infanzia e l'adolescenza che presenta un'indagine sui centri per l'affido in Toscana condotta negli anni 2013-2014; Identità del figlio e diritto di conoscere le proprie origini (G. Giappichelli, 2015), libro di Maria Gabriella Stanzione sul tema del diritto di accesso alle informazioni sulle proprie origini; Alunni con cittadinanza non italiana: tra difficoltà e successi (Ismu, 2015), indagine del Ministero dell'istruzione, dell'università e della ricerca e della Fondazione Ismu che offre una fotografia ricca e puntuale della presenza degli studenti stranieri presenti nelle nostre scuole.
La sezione Internazionale presenta il rapporto di Save the Children Child poverty: what drives it and what it means to children across the world e due pubblicazioni dell'Agenzia europea per i diritti fondamentali (FRA): il volume Child-friendly justice: perspectives and experiences of professionals on children's participation in civil and criminal judical proceedings in 10 EU member states e il manuale Handbook on European law relating to the rights of the child.
La sezione I nostri antenati, infine, propone il libro di J. Gavin Bremner Prima infanzia, nell'edizione italiana del 1995, e il volume di Gian Paolo Meucci e Francesco Scarcella La tutela dei diritti del minore (La nuova Italia scientifica, 1984).
Tutte le pubblicazioni e i documenti presentati nella Rassegna bibliografica sono ricercabili nel Catalogo unico e disponibili per la consultazione e il prestito presso la Biblioteca Innocenti Library Alfredo Carlo Moro.