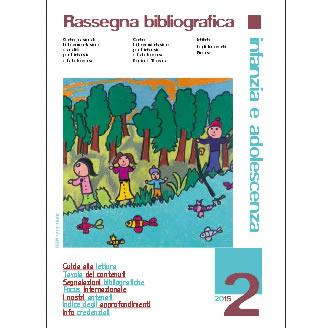 È online il numero 2/2015 della Rassegna bibliografica, rivista digitale trimestrale di informazione bibliografica sui temi dell'infanzia e dell'adolescenza frutto della collaborazione tra l'Istituto degli Innocenti di Firenze, il Centro nazionale e il Centro regionale di documentazione per l'infanzia e l'adolescenza della Regione Toscana.
La sezione Segnalazioni bibliografiche riporta articoli e volumi dedicati a vari temi. Questi alcuni titoli: Il percorso identitario degli adolescenti di origine straniera (F. Angeli, 2015), libro di Giovanna Ranchetti che analizza le problematiche identitarie degli adolescenti di seconda generazione; Le famiglie omogenitoriali (Carocci, 2015), volume di Roberta Bosisio e Paola Ronfani che esplora le rappresentazioni e le pratiche della responsabilità dei genitori dello stesso sesso nei confronti dei figli; Bambini senza: origini e coordinate delle povertà minorili, rapporto annuale di Save the Children Italia (2015); Il welfare locale in Italia: nella morsa tra deficit storici e mancanza di disegno futuro (in La rivista delle politiche sociali, 2015, n. 1), articolo di Raffaele Tangorra che riflette sui ritardi nella realizzazione di un sistema omogeneo dei servizi sociali in Italia e sulla mancata definizione dei livelli essenziali delle prestazioni.
La sezione Internazionale presenta due pubblicazioni: Guardianship systems for children deprived of parental care in the European Union (FRA, 2015), dell'European Union Agency for Fundamental Rights; The investment case of education and equity, (2015), dell'Unicef.
La sezione I nostri antenati, infine, propone il saggio di Giorgio Campanini et al. Le comuni familiari tra pubblico e privato (F. Angeli, 1980), e il libro di denuncia della condizione dei minori assistiti negli istituti italiani Il paese dei Celestini (Einaudi, 1973), scritto da Bianca Guidetti Serra e Francesco Santanera.
Tutte le pubblicazioni e i documenti presentati nella Rassegna bibliografica sono ricercabili nel Catalogo unico e disponibili per la consultazione e il prestito presso la Biblioteca Innocenti Library Alfredo Carlo Moro.