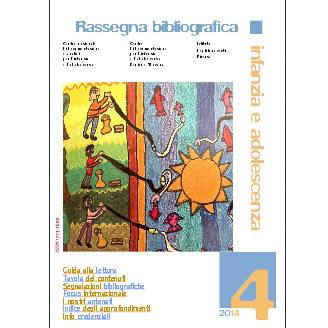 È on line il numero 4/2014 della Rassegna bibliografica, rivista digitale trimestrale di informazione bibliografica sui temi dell'infanzia e dell'adolescenza frutto della collaborazione tra l'Istituto degli Innocenti di Firenze, il Centro nazionale e il Centro regionale di documentazione per l'infanzia e l'adolescenza della Regione Toscana.
Gli articoli e i volumi della sezione Segnalazioni bibliografiche affrontano vari temi. Questi alcuni titoli: il libro di Vittorino Andreoli L'educazione (im)possibile (Rizzoli, 2014), che ripercorre con un linguaggio chiaro e appassionato la storia dell'educazione fino ai giorni nostri per ribadire l'importanza del ruolo genitoriale e della relazione educativa; l'articolo di Vincenzo Carbone L'adottato alla ricerca della madre biologica (in Famiglia e diritto, n. 11, 2014), che affronta il complesso e delicato tema della "ricerca delle origini" alla luce della sentenza costituzionale n. 278/2013; il libro di Rosamaria Vitale e Rosalba Terranova CecchiniAccogliere il migrante (Psiconline, 2015), che tratta il tema dell'accoglienza e presa in carico degli immigrati da parte degli operatori sanitari e sociali.
Nella sezione Internazionale si segnalano due volumi: la pubblicazione Unicef del 2014 Hidden in plain sight (Nascosti in piena luce), che offre un'analisi dei dati statistici sulla violenza all'infanzia a livello globale, e il volume di Mary Daly et al. Family and parenting support (Office of Research Innocenti, 2015).
La sezione I nostri antenati, dedicata a testi pubblicati in un passato recente ma tuttora rilevanti per la comunità scientifica, propone il saggio del 1928 di Jean Piaget Psicopedagogia e mentalità infantile(pubblicato in Italia da Le Monnier nel 1970), e il libro di John Boswell L'abbandono dei bambini in Europa occidentale (Rizzoli, 1991).
Tutte le pubblicazioni e i documenti presentati nella Rassegna bibliografica sono ricercabili nel Catalogo unico e disponibili per la consultazione e il prestito presso la Biblioteca Innocenti Library Alfredo Carlo Moro.