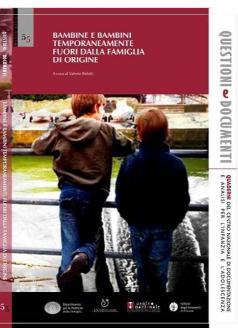 Family foster care and community placements. As of 31 December 2010 by Valerio Belotti
In Notebook 55, the full results of the sample survey on children and adolescents who experience being removed from their family of origin have been published. The main objective of the survey, promoted by the Ministry of Labour and Social Policies and by the National Centre for Documentation and Analysis for Children and Adolescents, was to update the framework of knowledge and to compare the phenomenon over time, a little more than ten years after the first experiences of census research and after Law 149/01 came into force. In fact, the research presented in this volume makes it possible to appreciate many changes in terms of what was observed with the census survey at the end of the 1990s.
The 2010 data reveal an increase in the number of children and adolescents outside their family of origin compared to the data collected in 1998 and 1999, and the growth concerns both the total number of children in foster care or in residential care on 31 December 2010, and the total number of children taken in during 2010. In the first case, there is an increase of 24% (from 23,636 to 29,309 children), while in the second case the increase is 20% (33,042 to 39,698).
View online Quaderno 55