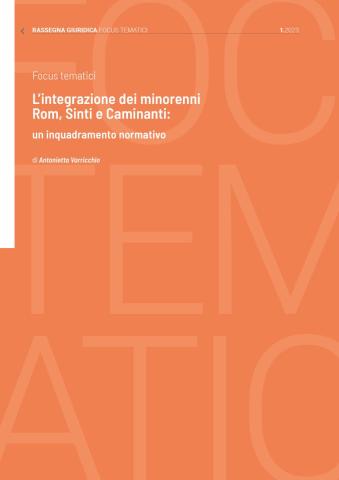 The integration of Roma, Sinti and Caminanti children: a legal framework
To date, there is no internationally agreed definition of which groups fall under the concept of minority. According to the Council of Europe, the terms Roma and nomads include the Roma, Sinti, Kale, Romanichals, Boyash/Rudars, Balkan Egyptians, Oriental groups and groups such as the Caminanti, Yenish and populations designated under the administrative term Gens du voyage (travelling people), as well as the people identified as Gypsies: all of these are connected by continuous migration, to the extent that they are considered not as a territorial minority, but as a "dispersed" minority.
In order to ensure the promotion and protection of the rights of minorities, one of the most important documents of the United Nations is the resolution of 18 December 1992, A/RES/47/135, Declaration on the Rights of Persons Belonging to National or Ethnic, Religious and Linguistic Minorities.

Attached is a legal overview with the main regulations dealing with the topic of the integration of Roma, Sinti and Caminanti children.