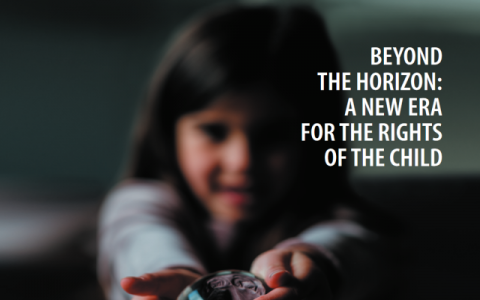 S'intitola Beyond the horizon: a new era for the rights of the child la conferenza sulla nuova Strategia del Consiglio d'Europa per i diritti dell'infanzia che si terrà il 7 e l'8 aprile a Roma (Ergife Palace Hotel & Conference Center, Largo Lorenzo Mossa 8).
La due giorni, organizzata dal Consiglio d'Europa e dalla Presidenza italiana del Comitato dei Ministri del Consiglio d'Europa, sarà l'occasione per presentare la nuova "Strategia di Roma" (2022-2027) adottata dal Comitato dei Ministri il 23 febbraio scorso, come strumento europeo che guiderà il Consiglio d'Europa, i suoi 46 Stati membri e i loro partner internazionali e nazionali nella realizzazione di sei obiettivi strategici per proteggere e promuovere i diritti dell'infanzia: libertà dalla violenza per tutti i bambini e le bambine; pari opportunità e inclusione sociale per tutti i minorenni; accesso all'uso sicuro delle tecnologie per tutti i bambini e le bambine; giustizia a misura di bambino/a per tutte le persone di minore età; dare voce ad ogni bambino/a; diritti dell'infanzia in situazioni di crisi e di emergenza.
Ad aprire i lavori saranno la Ministra per le pari opportunità e la famiglia, Elena Bonetti, la Segretaria generale del Consiglio d'Europa, Marija Pejčinović Burić, e il Sottosegretario per gli affari esteri e la cooperazione internazionale, Benedetto Della Vedova. Parteciperanno alla due giorni: Tiny Kox, Presidente dell'Assemblea parlamentare del Consiglio d'Europa (in collegamento); Dunja Mijatović, Commissario per i diritti umani del Consiglio d'Europa; Maria-Andriani Kostopoulou, Presidente del Comitato direttivo per i diritti del fanciullo; Dubravka Šuica, Vicepresidente per la democrazia e la demografia, Commissione Europea; i ministri competenti degli Stati membri del Consiglio d'Europa.
Tra i partecipanti ci saranno anche rappresentanti della società civile ed esperti internazionali di diritti dell'infanzia, oltre a una rappresentanza di giovani delegati e delegate provenienti da diversi Stati membri del Consiglio d'Europa, che hanno già contribuito alla costruzione della Strategia.
L'evento è su invito. Il programma completo è disponibile sul sito del Dipartimento per le politiche della famiglia, nella notizia dedicata.
Altri materiali e notizie si trovano su questo sito alla tematica Diritti dei bambini e adolescenti, raggiungibile dal menù di navigazione "Temi".